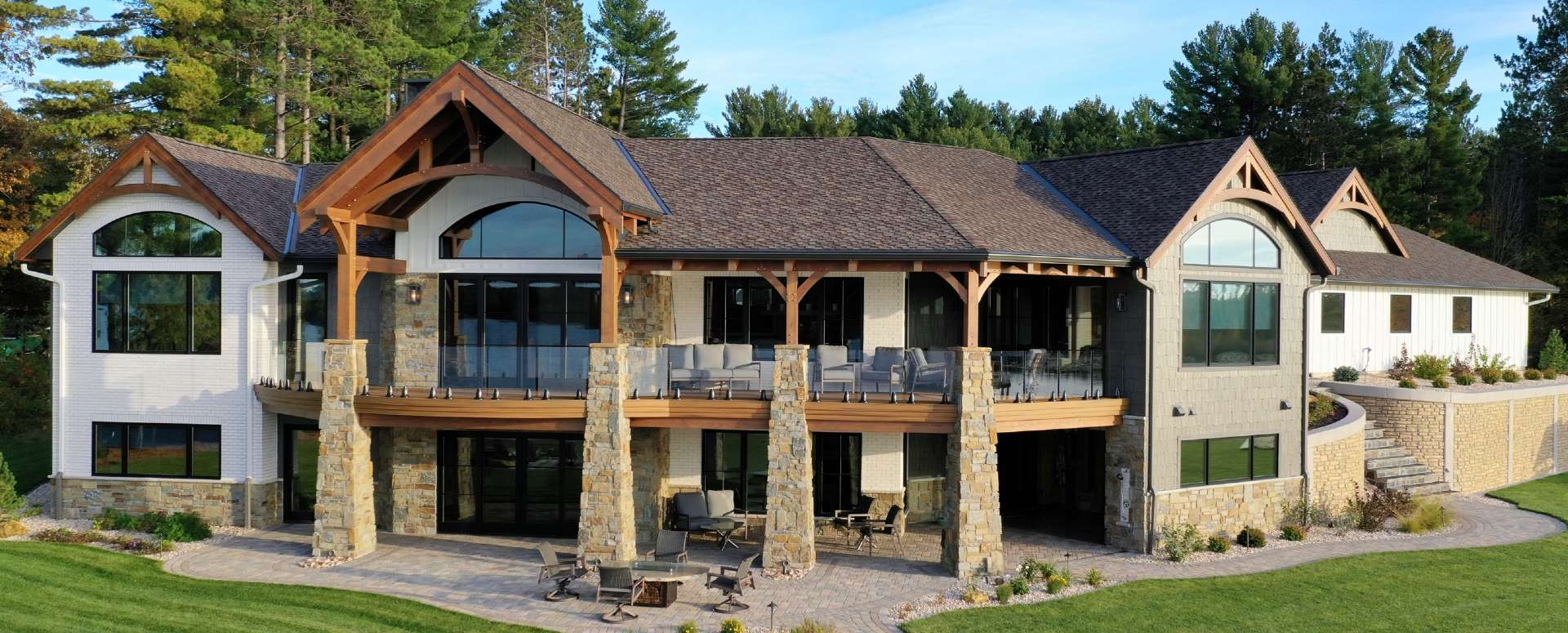 Wisconsin Getaway
Type: Residential
Size: 3360 sqft – main floor, 1888 sqft - garage, 3360 sqft – walkout level
Region: NW Wisconsin
Architect: Cornerstone Timberframes, HB Design, Builder: Joe Yakesh – Quality Construction + Remodelling
Completed: 2020
Truss: King posted
Bedrooms: 4
Bathrooms: 4
Other: Eye-catching curved tie beams
Timber: Douglas fir
This home is filled with unique timber detailing in just about every room. From structural trusses supporting the back deck canopy through to decorative ceiling timber in the master bedroom.
The living room features beautiful double curving tie king post trusses with large 10×10 posts and eave plates. The timber elements are minimal to give the space a more contemporary feel with drywalled ceiling and walls. The timbers really stand out and are a feature.
Decorative trusses to match the great room design are showcased in the family room and master bedroom. The family room has great contrast with the painted trusses and rustic barn board ceiling finish.
Structural canopies above the entry and back deck really add some beautiful curb appeal to this home in addition to the natural stone/siding finishes.
Simple coffered ceiling details in the kitchen and lower level add to the overall appeal of the space. Some of these trim timbers are close to 30' long to avoid seams.
The curving staircase down to the walkout is built with solid 8×16 timbers cut to a radiused edge on both the inside and outside face.
High grade Douglas Fir timbers were used for all the timber elements in this home. The double curving ties required pieces up to 20" in depth to achieve the desired radius on the curves.
Timbers finished with Sansin SDF Bronze Teak. The translucent nature of the stain really allows the lively grain from the Douglas fir to shine through.