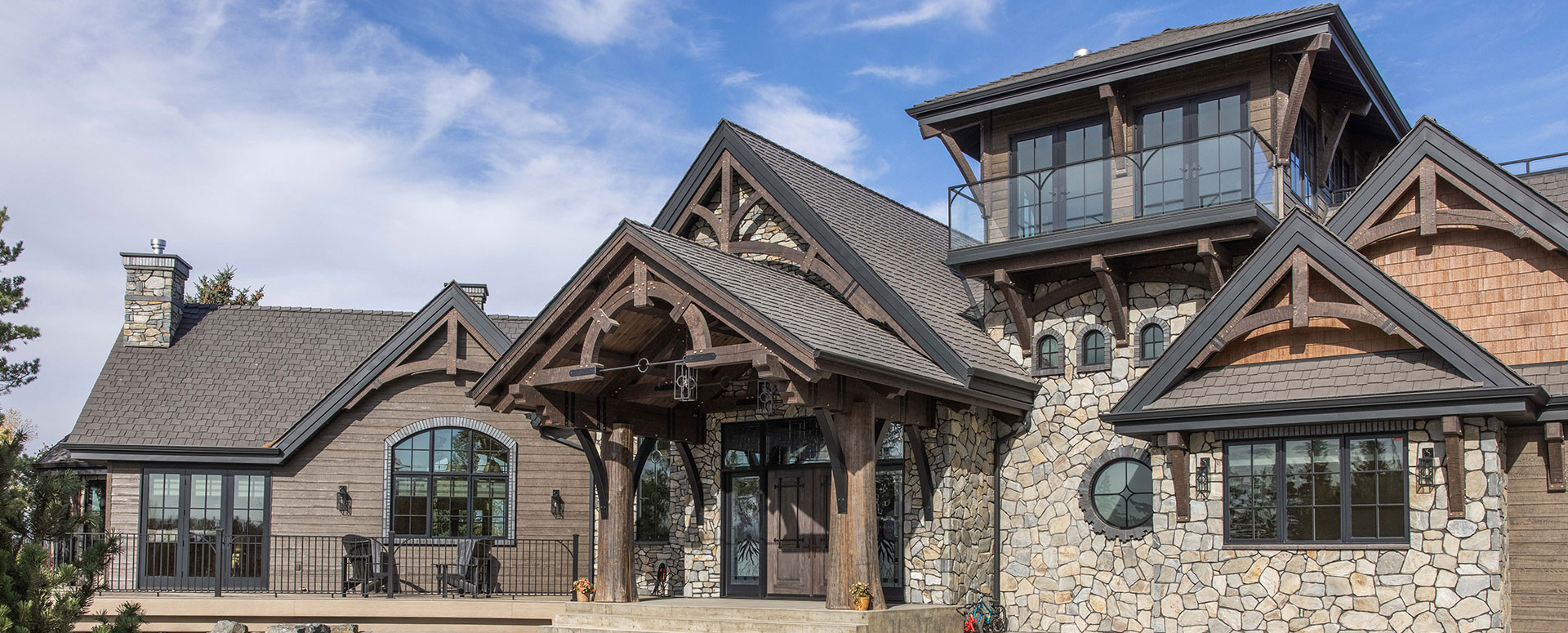 The House On The Prairies
Type: Residential
Size: 4380 sqft – main floor + tower and 2450 sqft – breezeway and garage
Region: SW Manitoba
Architect: Cornerstone Timberframes, Mo Hykaway
Completed: 2020
Builder: Triple E Developments
Truss: King posted
Bedrooms: 4
Bathrooms: 4
Other: Ultimate timber dream home featuring big cedars
Timber: Douglas fir
Every room boasts unique, one-of-a-kind structural timber detailing, with custom metal accents. As a whole, the home blends naturally into it's park-like surrounding with the extensive use of stone, glass, and timber on the exterior elevations.
A third storey tower features a live edge ash transom ridge with a 'widows walk' that connects the space to a third storey balcony deck overlooking the backyard and views through the cupola into the covered breezeway that links the home to the garage.
16 sided, turreted sunroom that is echoed by a matching tray ceiling detail in the breakfast nook, complete with a stone fireplace and sunburst masonry detail around the hearth.
A total of 13 Western red cedar logs grace the home in strategic locations as you enter through the covered front entry, all the way to the back covered deck canopy.
Reclaim Douglas fir/larch timbers throughout from a mix of grain elevators across the prairies. Re-sawn and planed smooth on the interior, adze-like texture on all exterior timbers
Great room features stunning cathedral-like trusses, custom window grills, a massive Western red cedar tree trunk in the corner of the stairwell and an impressive stone chimney complete with an integrated mantle into the structural timber posts
Kitchen features a cross-gabled roof with a four-foot central opening that houses a custom metal range hood above the 20' island. Sycamore slabs finish off the sitting area
Dining room carries the window detailing through with local live edge ash collar ties in the timber ceiling detail. A large swelling cedar log, visible from all points of the main floor is the cornerstone of the floor plan
Intricately detailed timber and steel railings and newel posts are complimented by a site curved railing leading down to the basement that closely follows around a 42" diameter cedar log
The custom Chocolate Ebony stain highlights the beautiful character marks of the reclaimed material, while also allowing the high/low grain pattern of the douglas fir to shine.
The pine tongue and groove ceiling boards are a slightly lighter shade of the same Chocolate Ebony color, this allows the beams to be the feature of the ceiling while keeping the bright lofty feeling of the vaulted spaces.
The exterior cedar logs complement the timber perfectly with a stunning silver patina while the interior cedars are clear coated leaving a visual representation of their past life.