OUR CRAFT
Timber Frame Construction: The Superior Choice
Well crafted timber homes provide three big advantages: greater energy efficiency, more interior decorating options and outstanding durability.
INSULATION & ENERGY EFFICIENCY




DECOR




STRENGTH



INSULATION & ENERGY EFFICIENCY

Conventional construction uses 2"x6" wood studs every 16" in a wall, filling the spaces between these studs with fibreglass insulation. The result, at least on paper, is a wall with an R20 insulation value but at every wall stud the actual value is just R6. Taken in total a conventionally framed home performs well below its advertised insulation value.

Timber frame homes separate the wood structure from the insulation, so the timbers seen inside your home provide all the support needed for the roof, walls and floors, allowing the wall and roof spaces to be entirely dedicated to unbroken insulation. Using structural insulated panels a 6" wall is a true R24 and a 10" thick roof is R42.

DECOR

Timber homes can be designed to emphasize open areas or to provide intimate spaces and can even include a combination of both styles. Where "bearing walls" once blocked views, you can now have open sight lines between kitchens, dining spaces, living areas and sunrooms. Both designers and customers find the new possibilities wonderfully freeing.

An added benefit of using natural materials, like wood and stone, are soothing to the senses and create added visual interest. Many customers who first consider a rustic log home find the question of colours and decor to be a pivotal issue when choosing their construction method. Combining timber frame with painted drywall, textured and faux finishes create brighter, richer and more cheerful spaces than can be achieved with log interiors or by drywall alone. Finishes for the timber can range from light and clear to rich and dark.

STRENGTH

Only stone structures have a durability track record that can match timber frame buildings. From the Orient to Europe and North America, well-built timber frame construction has shown that it will endure for centuries where "stick frame" constructions' lifespan is measured in decades. An often heard response in North America is, "This may be well and good, but which one of us will be around to know or care in a hundred years?" True enough, but this short-term view is exactly what is causing our landfills to overflow and our worlds' forests and oceans to be depleted. Build once, build right and know that your home will be enjoyed by others after you. In the time that your house stands new forests can grow and the energy consumed in building it will be renewed several times over.

Choose timber framing for good stewardship of our world's resources.
Our Process
At Cornerstone we find happiness in understanding client needs and developing creative and beautiful timber solutions.
Following is a simple outline of our process:
UNDERSTANDING YOUR PROJECT

By phone, email or face-to-face, we receive the details about your building site, the kind of structure you want to create and the key spaces and features you want.
We ask a lot of questions to understand the way you want to use the spaces and your preference for how the spaces will reflect your style, optimize preferred sight lines and enhance your social and personal enjoyment.

FIRST CONCEPT

Our in-house designers will use all of the guidance received to develop a 3D timber frame model for your review and feedback. This service is provided at no cost.
With your response to the concept we will make needed adjustments to the concept and provide an estimate for the timber frame, including any additional services or products you may want (staining, tongue and groove ceiling boards, etc.)

CONTRACTORS AND CONSTRUCTION DRAWINGS

Once the preliminary design is done, we can assist with preparing detailed construction drawings or put you in touch with an architect or professional designer. We'll also recommend one or more experienced builders who can provide a comprehensive budget for your project.

TIMBER RAISING

In coordination with your builder's schedule we'll cut your timber frame and arrange shipping to your site for installation.
Often within 2-3 days your frame will be standing and your builder can move ahead with completing the roof and wall envelope.
Finishing
We apply a three coat interior/exterior finishing system. We use Sansin products to produce a very durable and high quality finish. The finish is certified "green", being recognized as zero VOC, making it safe for use in both interior and exterior spaces.
We pre-sand all of the timber prior to application of the finish. We then apply a first coat of Sansin tinted SDF. This product is designed to soak into the fibers of the wood and can be tinted to whatever color you desire. We then apply two protective top coats of Sansin ENS UV clear. A light sanding between the final two coats leaves the finish smooth and wipeable. The exterior finish should last from 5-7 years depending on sun exposure.
Learn more about Sansin tinted SDF coatings .
Learn more about Sansin ESF UV coating here
When recoating is required, there is no sanding needed. One additional coat is all that needs to be applied and should last another 5-7 years. This makes it a relatively low maintenance exterior finish.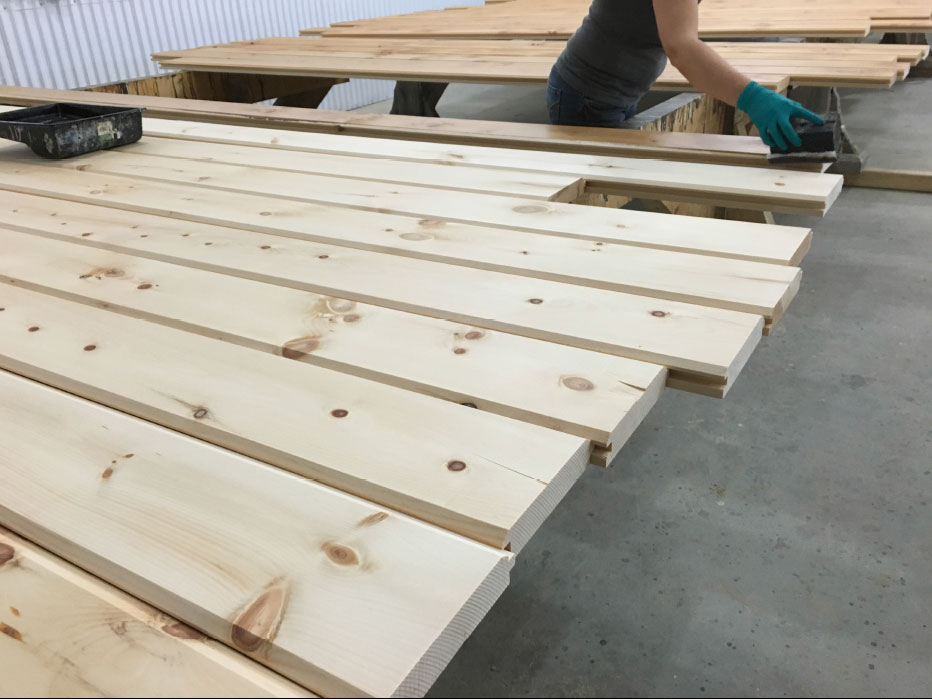 Penetrating One Coat Finish for Wood Siding
Sansin SDF provides tough, effective protection. SDF's specially formulated oils and resins penetrate into the wood, providing outstanding weather and UV protection in a wide range of natural, semi-transparent and even solid colors.
SDF is designed to be highly water-repellent, it's a natural choice for homes and structures in moisture-rich environments. Not only does SDF protect the outside of your wood, it also protects the inside by allowing the wood to "breathe" which helps prevent moisture from getting trapped in the wood and causing rot.
SDF is rated by siding manufacturers as one of the best natural finishes available.
A Clear Topcoat for Maximum Performance
Sansin ENS Optimum Clear is a durable crystal-clear topcoat that can be applied to any surface protected by ENS. It is engineered as both a performance-enhancing top coat for ENS, and as a long-lasting maintenance coat.
ENS Optimum Clear is highly resistant to wear, doesn't discolor over time, and enhances UV protection.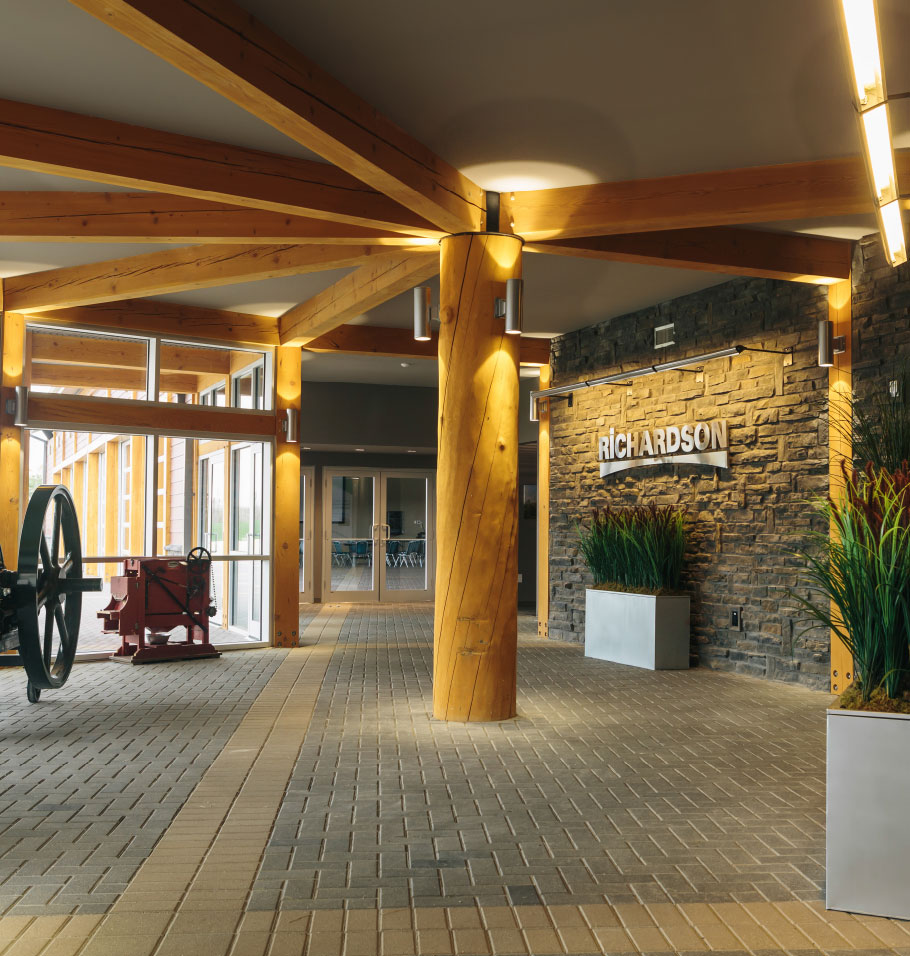 Benefits of Using Timber Frame in a Commercial Space
All other variables being equal, timber framed commercial spaces have a stimulating effect on consumer behavior, as measured by: Number of repeat visits, long term loyalty and more frequent referral of friends and visitors.
An impressive timber structure complemented by stone and other natural materials has a very pleasant effect on the human senses. In the same way that beautiful scenery, well-crafted art or enjoyable music has a positive impact on the mind, a thoughtfully designed space using traditional timber framing has the very same impression. And the result is obvious; "where people feel inspired and at ease are also the very same places where they love to return to again and again." Perhaps that is why the most highly prized wedding reception hall in our region is a timber frame building and it would also account, in some measure, for the success of the top local restaurant who obviously trade on good food and attentive service but also has the most distinguished ambience in the region.
While the case for using timber frame in food service and meeting spaces is easily supported by the reasons provided above, it also makes good sense in a wider circle of commercial uses. An accountant summed up his decision to build a timber frame office this way, "I wanted my staff and clients to really enjoy coming into this building. We were tired of suspended ceilings, fluorescent lights, bland walls and tiny cubicles. The timber frame reinforces my firm's reputation as being solid and dependable – in for the long haul. And, my clients really enjoy our one-of-a-kind board room which gets steady use for meetings."
FAQ
GENERAL QUESTIONS
What is timber framing?
It's an ancient craft with roots in Europe and the Orient which was brought to North America with the first European settlers. The craft relies on connections that are cut into each piece. The most typical connection is one in which a tongue on the end of a beam is cut to fit into a pocket in a post. A hole is bored through both sides of the post and tongue and a wood peg is driven in to hold the two timbers together.
What are the key differences between "timber frame" and "post and beam"?
At Cornerstone we do both. These two approaches to heavy timber construction are often mistaken for each other, or at least the terms are used interchangeably when in fact they are quite different.
"Post and Beam" uses minimal joinery, often simple square or butt cuts that rely on metal plates, lag bolts and spikes to secure one timber to another. Timber framing on the other hand, utilizes a wide array of complex joinery cuts to ensure that timbers remain tightly connected. Metal use is quite limited and if required is usually hidden.
There has always been "cross fertilization" between these two approaches and a number of post and beam builders in the first half of the 20th century still incorporated simple joinery in their work.
Is timber framing more expensive than regular construction?
Yes, timber framing is usually more expensive, often by 10-15% than the most equivalent conventional method. That said, there are exceptions and the design of a space will greatly affect the relative cost differential between timber framing and more common construction.
What kind of budget will I need to consider if I want a timber frame home?
Timber frames can be economical or extravagantly expensive, depending on their design. As a rule of thumb, a timber frame will cost between 15-20% of the total construction cost, so a $350,000 home should have a frame valued between $50,000 and $70,000. Using a hybrid approach, where the timber frame is used in the key living areas and secondary spaces are conventionally built, is a good approach to reducing the overall cost of your home project.
Do timber frames last longer than conventional construction, why?
Yes, well designed timber frames have a useful life potential measured in centuries. If the foundation and roof are maintained, there is really no limit on their durability. The key reason for their longevity is that a timber frame stands separate from the other systems in the home and has the structural strength to resist most natural forces. Even when neglected they endure. Stick frame buildings have the structure inside walls where moisture will eventually enter and start decay processes. The stick frame is only as good as the flashing detail around chimneys and windows, and when that fails the structure will begin to deteriorate.
What products and services does Cornerstone provide?
We are a timber frame specialist and usually the first stop when customers begin to consider a timber frame. We provide:
Everything timber from designs to the final assembled frame, fireplace mantles, verandas, entry canopies…
Full design services and architect referrals
Structural engineer review and stamp for most provinces
Contractor recommendations
Resources for straw bale, light clay and cordwood
Tongue and groove boards for ceilings and floors
Stairs: Straight run, winder, curved, spiral
Structural Insulated Panels (SIPs)
DESIGN PROCESS
Where do I begin?
Start with your timber framer – we can help you grab hold of all the details you'll need before going into design. Come with a good description of your building site and the key features / spaces you want in your home and we'll respond with basic floor plans and timber frame ideas for you to consider.
If I find a design I like in a plan book can you put a timber frame in it?
Possibly, but there will likely be a few spots where the dimensions and room layout will need to be altered to make it work effectively as a timber frame. Often a plan book concept will allow us to see the elements that appeal to you and we can offer similar "timber frame friendly" plans as starting points for a design discussion.
How much time and budget should I allow for preparing a design?
It's best if you can allow six months or more for design. More time means more opportunity to reflect and revise and significantly reduces the risk of errors. Plans can be done in as little as two weeks but they require clients to be available and to make a lot of "on the spot" decisions.
Experienced home designers will charge between $1.20 and $2.50 per square foot. Some moonlighting designers will work for less. Architect fees will range from $2.00 to $6.00 and more per square foot or are calculated as a percentage of constructed value. Fully accredited interior decorators, depending on agency, charge $60 – $150 per hour. If that seems a little too steep then you can often find semi-professional help for substantially less at full service paint and decorating stores.
Most jurisdictions require an engineer to review and stamp your design. Fees range from a few hundred dollars to several thousands, depending on complexity, size and project value.
Are there home designers or architects that you can recommend?
Yes, once we understand the specifics of your project we can recommend one or more experienced designers who can provide design cost estimates.
WOOD CHOICE
What kinds of wood does Cornerstone use?
Our most common wood species by volume are:
eastern white pine
Douglas fir (green and standing dead)
western red cedar
white oak
We have also made frames from a variety of other species: burr oak, green ash, white spruce, eastern white cedar and lodge pole pine
What is standing dead timber and what are its benefits?
Standing dead timber refers to trees that have died while still standing in place. This can happen when a fast moving fire runs through a stand, burning the tops of the trees but otherwise leaving the timber untouched. The trees die and lose a lot of their free moisture through the remaining needles and then continue to dry as long as they remain standing.
Timbers cut from standing dead trees will typically have less checking (cracks along the length of a timber). Checking is a normal part of how large dimension timber dries. But because a tree that dies "on the stump" gives up its moisture slowly the checks are smaller. The timber will also have less shrinkage in girth than green timber and are therefore ideal for use wherever tension joinery is required (e.g. king post in a truss)
Why does reclaim wood cost more – shouldn't it be cheaper?
One would expect that old barn or bridge timbers should be less expensive than cutting new wood. At the point at which a demolition company buys the rights to salvage, timbers from a structure the cost per board foot is a usually a real bargain compared to new material.
But, of course that would make recycling too easy! After the labour and equipment required to salvage the timbers (sometimes out of really challenging locations), sort and cull, market and distribute the cost is usually 1-1/2 times that of new. And once it arrives on our yard we need to remove spikes and bolts and further cull to arrive at the pieces suitable for use.
In the end, the rustic beauty of reclaimed wood will "make music" in your home, and the added cost will be worth every penny.
Have a question? Give us a call or drop a line! We'd love to hear about your project and will help in any way we can.
PROS AND CONS OF STRUCTURAL INSULATED PANELS (SIPs)
Way back in 1980, timber frame revivalist Tedd Benson, was already writing about how SIPs could revolutionize the way homes were built: "The stress-skin panel presents attributes of heat resistance never before seen in home construction and is a perfect match to timber frames. Energy conservation is the hope of the future…we must mark the end of the era of substandard housing that is cheap to build but expensive and wasteful to maintain."
At Cornerstone, we've noticed a big jump in client demand for SIPs. Before you commit to using them here are a few things to consider:
SIPs are more expensive but begin paying back in comfort and energy savings on day one and for as long as people live in the home (great great grand kids?)
SIPs go on fast and allow for a quick weather tight shell
SIP skins provide continuous nail base for siding and interior finishes (hanging a picture was never so easy!)
SIPs provide an unbroken blanket of superior insulation (no studs) and allow for smaller furnaces and air handling systems
SIPs have solid, stable cores, so mold and insects have no place to start
Some additional considerations:
SIPs, especially the roof panels, require meticulous foaming at the seams, as even a small void between panels can be problematic
SIPs require design and production lead times of 8-12 weeks, and your architect and builder need to be "on board" with the process
SIPs require advance planning for electrical, and a tradesperson who is prepared to fish wires through wire chases
SIPs are sometimes resented by local building trades (read: framing crews) who see panels as a threat to their livelihoods
If you would like to learn more about Structural Insulated Panels, check out www.sips.org