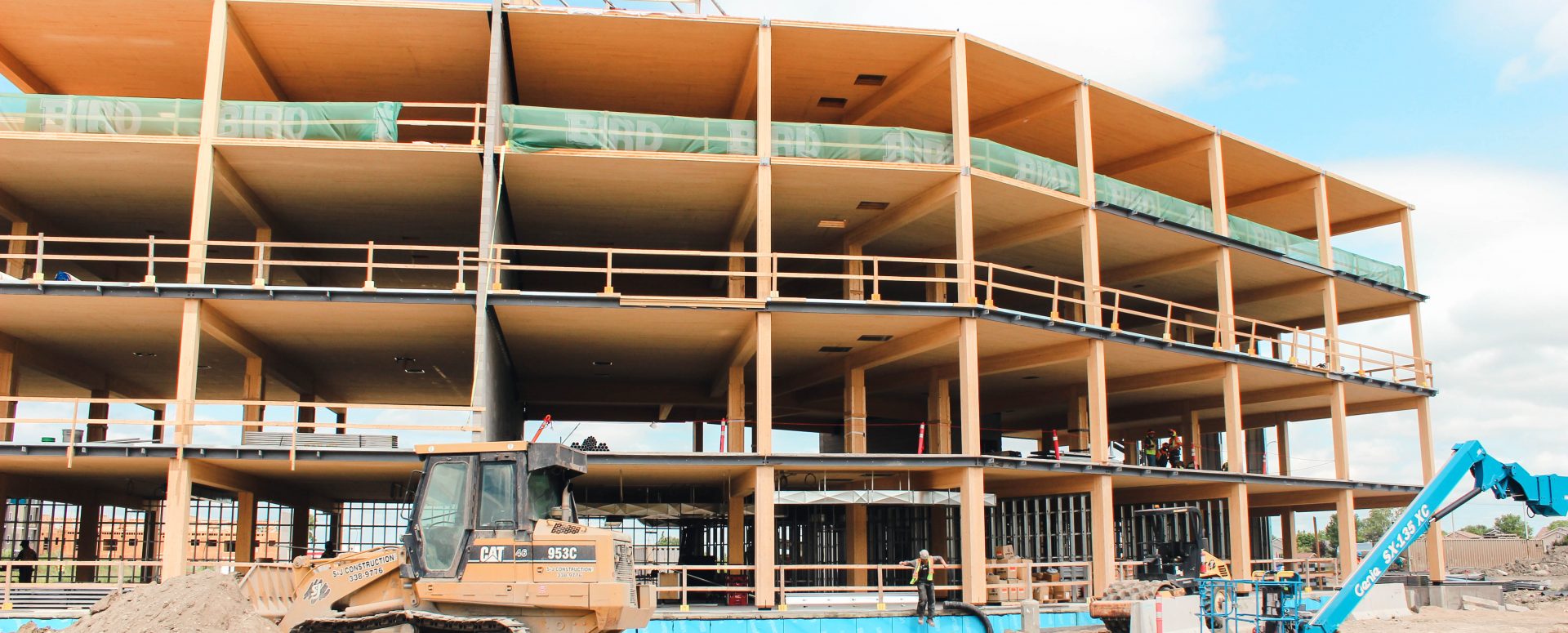 Memory Apartments
Type: Mass Timber Mid-Rise
Size: 16,800 sq. ft. per floor
Region: Winnipeg
Completed: 2022
Designer: MMP Architects
Builder: Bird
Timber: Nordic Structures
Winnipeg's first mid-rise mass timber building is an innovative 6-storey assisted living residence with a connected "memory care" facility that allows loved ones at differing levels of care to maintain contact and age in place.

The timber structure is made up of glulam columns and beams that support CLT floor and roof panels that span the 6.5 m spacing between columns.

The structure holds 2,280 cubic meters of mass timber.  Of this volume, 80% is CLT panels and 20% is composed of glulam columns and beams.

A significant area of savings was achieved due to the relative lightness of the mass timbers. If constructed with concrete, the structure would have weighed 6.5 million kilograms, but thanks to timber, this weight was reduced to 1.3 million kilograms, allowing the foundation to be built with substantially less material, saving construction cost, embedded energy and time.

In the production of mass timbers for this six-storey building, 235 metric tonnes of greenhouse gas were emitted, offset by 1,295 metric tonnes of C02 stored in the timbers for the life of this building. 

Nordic Structures, supplier of the project's laminated timbers and panels, is a leader in sustainable forestry, planting and harvesting trees within a fixed forest management area, guaranteeing ecosystem health and a positive future for forests and communities for generations to come.

As a memory care residence, the project's architects sought out building materials that elicit positive, comforting associations.  Wood was a natural choice. Wood interiors have been shown in studies to provide reductions in anxiety, lower blood pressure and heart rates.  Subjects reported feelings of safety and relaxation and were more likely to engage in positive social interactions.